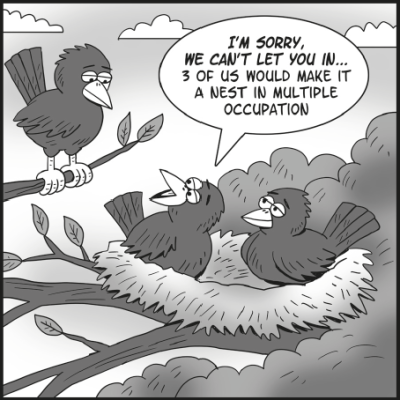 Definition of a HMO
In simple terms, a house in multiple occupation (HMO) is a house or flat rented by sharers, rather than by a single family.
It is defined by the government as a dwelling occupied by more than two people who form more than one household and share basic facilities (such as a kitchen and bathroom). The defi-nition therefore excludes properties occupied by a single family
(no matter the number of family members) or flats and houses occupied by two sharers.
The building must be the occupiers' main residence (thereby excluding hotels offering short stays). A typical HMO is a shared house or flat, perhaps let to students, or purpose-built, bed-sit accommodation with shared kitchens and dining rooms.
A building that has been subdivided into separate units of accommodation, each of which is self-contained with its own private cooking and washing facilities, is a collection of self-contained flats and not a HMO for planning purposes.
A household is a family unit, including couples (whether married or not). A group of friends, no matter how well acquainted, is not considered a single household. That they rented the dwelling as a single unit (i.e., at the same time and in one tenancy agreement) does not make them a single house-hold. That there are no locks on bedroom doors and the friends socialise together does not make them a single household either.
The Growth of the Private Rental Sector
HMOs have been around for as long as people have needed low-cost housing to rent. In the nineteenth century, HMOs were large buildings with lots of bedrooms often shared by several different families. The housing was generally over-crowded and low quality. After the world wars, the government was determined to provide decent housing for its citizens and a massive house-building programme was launched; its vision was to replace overcrowded urban slums with individual family houses and flats with more green space. The government rebuilt urban centres, but also built whole new towns like Stevenage and Milton Keynes.
The Housing Act 1957 set out a fitness standard for housing that included proper facilities, water supply and drainage, plenty of natural light and ventilation, and well-designed rooms. Large houses that had been shared by several families were now occu-pied by single families, converted into flats or let by the room to unmarried lodgers, as Rigby did in the BBC sitcom Rising Damp. The rental market was limited and informal – there were some private sector landlords, but many people rented directly from their local council.
In the 1980s, however, a chunk of the public housing stock was sold off (through right-to-buy) and much of it found itself, ultimately, in the hands of private landlords. The government and councils stopped building new social housing and now sub-sidises rent for lower income households in the private rental sector (PRS), which has expanded hugely to meet demand. The introduction of the Assured Shorthold Tenancy (AST) in 1988 and the invention of the buy-to-let mortgage in 1996 created a more stable environment for landlords and made it easier for them to raise finance to build up portfolios. These twin reforms created the modern buy-to-let (BTL) sector and set off an explosion in property investing, creating a new class of amateur landlords investing for a little extra income and for their retirement.
By the noughties, the economy was roaring and house prices were on the rise. Hungry lenders were offering BTL mortgages at high loan-to-value (LTV) ratios and canny investors real-ised that they could repeatedly refinance their properties and reinvest as prices climbed, riding a boom fuelled by speculation and easy credit. It was a period in which it was difficult not to make money and it kickstarted the property investing careers of many of the UK's landlords, including my own. A whole generation of landlords have known nothing but rapidly rising house prices and returns.
In the mid-1980s there were around 50,000 private land-lords in the UK. Today, there are almost 2 million in business, owning 5 million properties worth just under one trillion pounds. Landlords own around 20% of all the homes in the country and around half of all the new homes built since 1986 have been bought by investors. It has been a transformation in the UK property market.
However, the boom has largely run its course. As the chart overleaf shows, there was a massive increase in real house prices (i.e., house prices adjusted for inflation) from around 1996 to 2007, but they have mostly stagnated since the financial crisis in 2007. These days, mortgages are much harder to come by and tax changes have turned the screws on smaller investors. In par-ticular, indebted landlords can no longer set all of their mort-gage interest against rental income for tax purposes, and the 3% stamp duty surcharge on the purchase of a second property, along with increased stamp duty rates for higher-valued homes, has chilled the market.
Most of these changes are deliberately aimed at squeezing out amateurs and creating a class of professional landlords. Although it may not admit it publicly, the government would like to see the PRS dominated by large companies backed by institutional investors. Individual landlords with smaller portfolios have to adapt to rapid changes in how they are taxed and regulated.
In London and the South East in particular, it is not oft en profi table for landlords to continue to invest in "vanilla" buy-to-lets – the single-family small houses and fl ats that make up the bulk of BTL activity. Instead, investors have been looking at alter-natives – small-scale property development, short lets (on Airbnb and similar) and, in particular and in large numbers, HMOs.
The Rise of HMOs
In recent years, there has been massive growth in the HMO sector. While a conventional three-bedroom, semi-detached house may offer negative returns after tax (in London and the South East at least), the same building extended and converted into an eight-bedroom HMO offers much higher yields.
HMO growth is also driven by demographic and societal changes – people are more likely to live alone and more likely to rent for much longer than they did in the past. Professional tenants will accept smaller spaces if they are high-spec, en suite and close to transport. Ultimately, of course, the spread of HMOs is a direct consequence of our housing crisis – if we are not building enough new houses, the market must cram ever more people into the houses we have.
HMOs were traditionally large, shared houses. In recent years, however, more and more smaller properties have been extended and converted for use as shared accommodation. Permitted development rights allow large extensions to the rear, side and at roof level, meaning that a boring three-bedroom semi can be transformed into a large six-bedroom HMO, often with huge downstairs kitchen/reception rooms and several shower rooms. This kind of pressure on traditional, suburban family housing has created some tension in communities and led to more scrutiny of HMOs.
HMOs are a very different business to vanilla BTLs. HMO landlords have a much wider range of responsibilities than a buy-to-let investor with single-household units. Professional HMO landlords have long understood how to develop, license and manage their properties, but they are increasingly facing a new threat – from the planning system.
Regulation of HMOs
The current definition of a HMO comes from the Housing Act 2004, a big and important piece of legislation that updated the definitions given in the 1985 and 1989 Housing Acts and made big changes to the UK housing market by introducing HMO licensing, Home Information Packs (axed in 2010) and the Tenancy Deposit Scheme.
The 2004 Act was aimed at improving standards in the PRS and required that HMOs with three or more storeys or five or more occupants be licensed by the local authority (man-datory licensing). Mandatory licensing came into force in 2006 and there were 60,000 of these larger HMOs in the UK in 20181.
It also gave local authorities wide enforcement powers and the ability to apply to the Secretary of State to extend HMO licensing to smaller HMOs and other residential accommoda-tion in specific areas (selective licensing). The government said that the purpose of licensing was to "tackle overcrowding, poor property management and the housing of illegal migrants".
The 2004 Act also applies in Wales, but the Housing (Wales) Act 2014 has introduced new requirements aimed at improving management standards across the PRS. The main change was the requirement that all private landlords be registered.
In October 2018, the definition of a large HMO was amended by the snappily titled "The Licensing of Houses in Multiple Occupation (Prescribed Description) (England) Order 2018". It removed the "three or more floors" element, so that any HMO with five or more occupiers was a "large" HMO and subject to mandatory licensing. It also introduced minimum room sizes and requirements in relation to the storage of waste and recycling.
Licensing is entirely separate to planning and a detailed dis-cussion of mandatory and selective licensing is therefore outside of the scope of this book. The interplay between licensing and planning can be confusing – licensing defines HMOs in a dif-ferent way to planning (for example, a HMO with five of more occupiers is a large HMO when it comes to licensing; the planners define a larger HMO as one with six or more occu-piers). All HMO landlords, or investors considering becom-ing a HMO landlord, must properly research local licensing requirements. The best place to start is your local council, which can provide guidance.
The Threat from Planning
Planners paid little attention to HMOs in the past – they are just larger rented houses, after all; their colleagues in housing, licensing and building control departments were busy ensuring they were safe and met basic standards.
The outgoing Labour government shone a light on the sector in 2010 and, since then, planners have started taking the view that HMOs represent sub-standard housing, noise, disturbance, parking stress and a threat to community cohesion. Landlords know that their properties provide much-needed, low-cost housing to tenants on lower incomes, but some local author-ities are determined to close down shared housing and resist the development of any new HMOs in their areas. As the next chapter explains, councils are using the planning system to exert pressure on HMO landlords to try and limit the spread of this kind of accommodation.
Summary
A HMO is a dwelling occupied by more than two people who form more than one household and share basic facilities (such as a kitchen and bathroom).
There has been massive growth in the HMO sector in recent decades as property investors seek better returns and because of increased demand from tenants for affordable single-person units.
This growth has triggered greater regulation of the sector. The 2004 Housing Act introduced mandatory and selective licensing. In 2018 mandatory licensing was extended to all HMOs with five or more residents and minimum internal standards were introduced.
Now the planners are training their sights on HMOs
– more and more of them need planning permission and that permission is becoming increasingly difficult to obtain.