Planning for HMOs - A practical guide to planning permission for houses in multiple occupation
The HMO sector has boomed over the past 12 years – landlords have boosted returns by buying up houses, extending them and renting them to several sharers. This boom has drawn the attention of the planners, who have been turning the screws. In some areas, all houses or flats occupied by three or more people need planning permission (thanks to the spread of Article 4 Directions). Where permission is needed, planning policies are often very restrictive. HMOs operating without permission are targeted more aggressively by planning enforcement teams.
Simply put, more and more HMOs need planning permission, and that planning permission is harder to get.
Planning for HMOs arms landlords and investors with the knowledge to navigate these choppy planning waters. It explains how HMOs are defined in planning terms, when planning permission is required, how to get it, what to do if an application is refused (including how to appeal) and what to do if you are facing enforcement action. It examines statistics on application and appeal success rates for HMOs and provides case studies from across England.
Martin Gaine decided thousands of planning applications in various councils before founding Just Planning, the only consultancy in England dedicated to helping homeowners and property investors to beat the planners. In Planning for HMOs, he provides insights drawn from his own experience in public and private practice to help HMO landlords grow and protect their portfolios.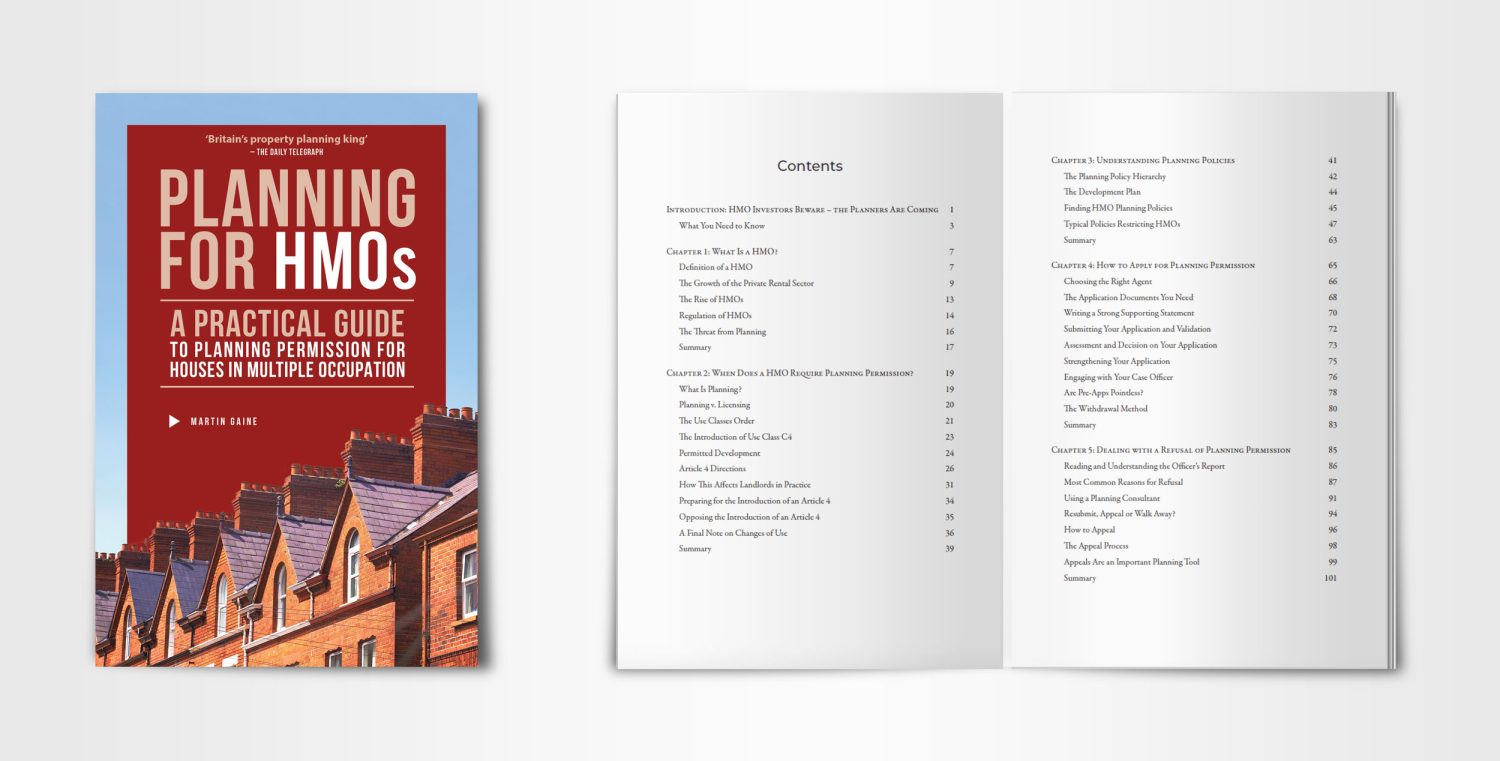 Introduction: HMO Investors Beware – the Planners Are Coming.
Chapter 1: What Is a HMO?
Definition of a HMO * The Growth of the Private Rental * Sector The Rise of HMOs * Regulation of HMOs * The Threat from Planning * Summary
Chapter 2: When Does a HMO Require Planning Permission?
What Is Planning? * Planning v. Licensing * The Use Classes Order * The Introduction of Use Class C4 * Permitted Development * Article 4 Directions * How This Affects Landlords in Practice * Preparing for the Introduction of an Article 4 * Opposing the Introduction of an Article 4 * A Final Note on Changes of Use * Summary
Chapter 3: Understanding Planning Policies
The Planning Policy Hierarchy * The Development Plan * Finding HMO Planning Policies * Typical Policies Restricting HMOs * Summary
Chapter 4: How to Apply for Planning Permission
Choosing the Right Agent * The Application Documents You Need * Writing a Strong Supporting Statement * Submitting Your Application and Validation * Assessment and Decision on Your Application * Strengthening Your Application * Engaging with Your Case Officer * Are Pre-Apps Pointless? * The Withdrawal Method * Summary
Chapter 5: Dealing with a Refusal of Planning Permission
Reading and Understanding the Officer's Report * Most Common Reasons for Refusal * Using a Planning Consultant * Resubmit, Appeal or Walk Away? * How to Appeal * The Appeal Process * Appeals Are an Important Planning Tool * Summary
Chapter 6: Learning from Previous Appeal Decisions
Lessons from Recent HMO Appeals * There Is a Surprisingly High Success Rate in Article 4 Areas * Investors Should Consider Converting Commercial Premises to HMOs * Some Councils Face a Lot of HMO Appeals * Issues Raised in HMO Appeals * Use of Planning Conditions * Costs Awards * Summary
Chapter 7: Certificates of Lawfulness and the 10-Year Rule
Householder Extensions Under Permitted Development * Article 4 Directions * The 10-Year Rule * Appealing a Refusal of a Certificate of Lawfulness * Summary
Chapter 8: Planning Enforcement
Why Enforcement Officers Are Targeting HMOs * What Tips the Council Off ? * Enforcement Investigations * How Best to Deal with Enforcement Officers * Retrospective Applications * Just Comply? * It Is a Risk, But Not an Offence, to Be in Breach of Planning * The Awesome Power of an Enforcement Notice * The Importance of Avoiding an Enforcement Notice * (Almost) Always Appeal an Enforcement Notice * Withdrawal of an * Enforcement Notice Enforcement Notices and Buying at Auction * Recap – Am I in Trouble? * Summary
Chapter 9: Extending a House to Create a HMO
What Are Householder Permitted Development Rights? * The General Permitted Development Order * Class A: Single-Storey Side and Rear Extensions * Class A on Steroids: Larger Home Extensions * Class B: Hip-to-Gable Roof Extensions and Rear Dormer Extensions * Class E: Outbuildings * The New Class AA: Upwards Extensions * Permitted Development Rights for Existing HMOs * Danger: The Pitfalls with Permitted Development Rights * Summary
Afterword: The Future Is Bright (for Professional Landlords)
Planning for HMOs: Cheat Sheet