HMO Landlords beware: the planners are coming for you!
Over the past ten years, the planning system has turned its attention on the HMO rental sector. Before 2010, most HMOs did not need planning permission and, even if they did, most councils didn't ask for it. Planning enforcement action against HMO landlords was rare.
But HMOs have become more and more popular as landlords chase higher yields and people choose to live alone, and more HMOs has meant more attention from regulators. HMO licensing has become more demanding over the years and now the planners are clamping down.
Article 4 Directions are spreading and planners, licensing teams and even lenders are demanding to know if HMOs have planning permission, even if they have been running as HMOs without problems for decades.
HMOs landlords need to be aware of this planning storm – it is easy to run into problems and mistakes can be very costly.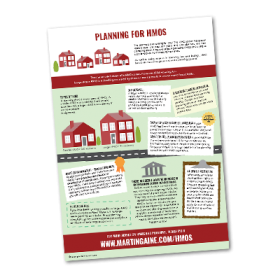 Download the free Planning for HMOs cheat sheet
The free Planning for HMOs cheat sheet summarises everything you need to know about planning and HMOs. It explains the different planning use classes for HMOs, when HMOs need planning permission and when they are permitted development, what is meant by Article 4 directions and certificates of lawfulness, and how you can profit from the 10 year rule.
our 6 Part video guide about HMOs
For more detailed information, check out the 6 part video series. Over 6 episodes, you will learn:
What the planning system is and why we have it
What is mean by a change of use
The use classes for dwellings and HMOs (C3, C4, sui generis)
The importance of permitted development
What an Article 4 direction is
How to apply for a certificate of lawfulness (lawful development certificate)
How to take advantage of the ten year rule
How to apply for planning permission, if you need it
How to understand planning policies and work out if permission will be granted
What do you if you are refused permission (including how to appeal)
How to deal with an enforcement investigation or an enforcement notice