How to get Planning Permission
Every year, thousands of homeowners apply for planning permission and come away battered and bruised.
In some cases, they go into battle poorly prepared. In others, they come up against the planners' "computer says no" approach to decision making.
How to Get Planning Permission is a lively and accessible guide for homeowners. It is full of practical detail and real-life case studies. Its 6-step programme explains how to:
choose the right designer
exploit Permitted Development rights (where permission is not required at all)
understand how planning decisions are really made
apply tactically and effectively
deal with a refusal
avoid the agony of enforcement.

Martin Gaine decided thousands of planning applications in various councils before founding Just Planning, the only consultancy in England dedicated to helping homeowners to beat the planners.
Planning is not a fair fight. Martin provides insights and advice based on decades of planning practice, laying bare his strategies for us all to use. If you want to extend your home, start here.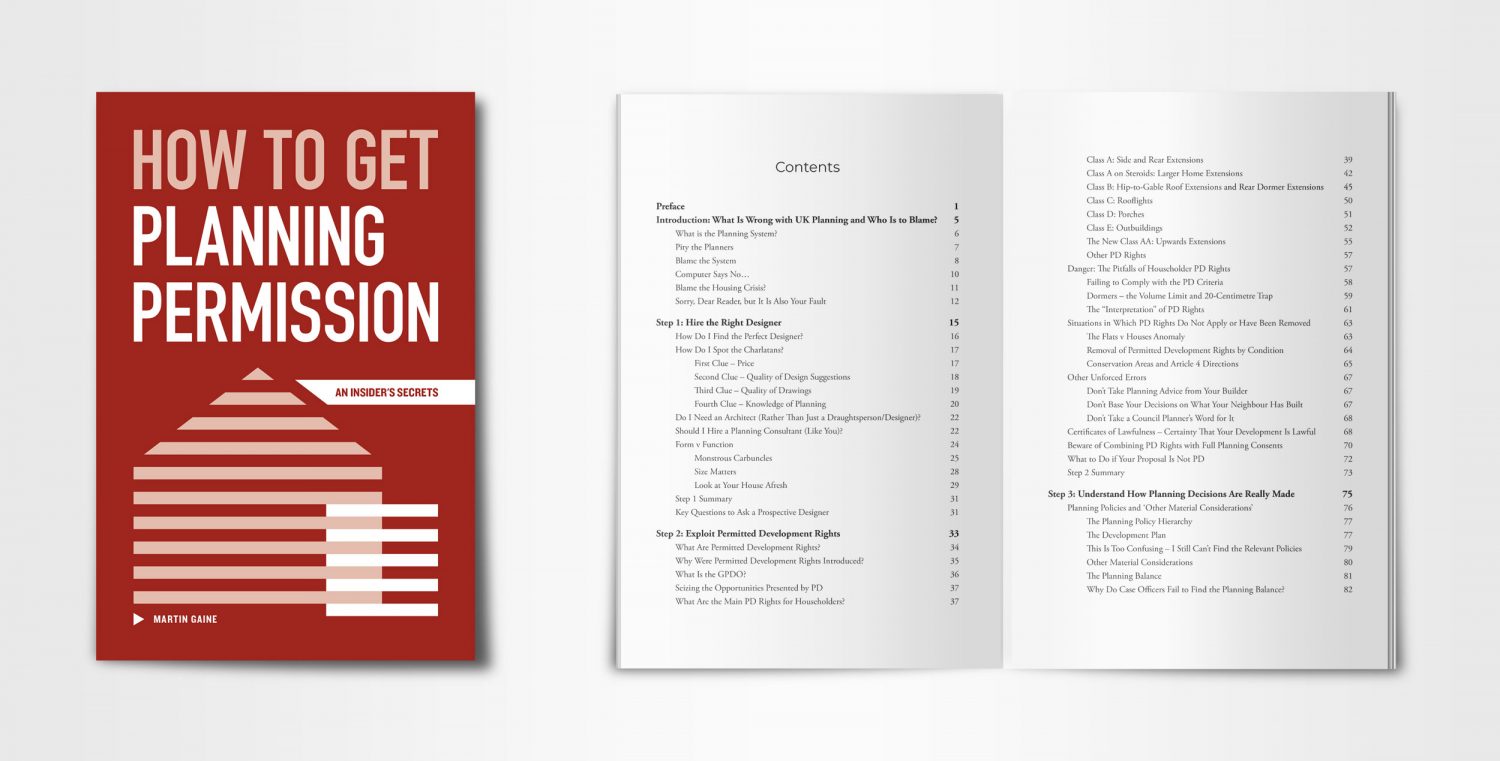 Introduction: What Is Wrong with UK Planning and Who Is to Blame?
What is the Planning System? * Pity the Planners * Blame the System * Computer Says No… * Blame the Housing Crisis? * Sorry, Dear Reader, but It Is Also Your Fault
Step 1: Hire the Right Designer
How Do I Find the Perfect Designer? * How Do I Spot the Charlatans? * Do I Need an Architect (Rather Than Just a Draughtsperson/Designer)? * Should I Hire a Planning Consultant (Like You)? * Form v Function * Step 1 Summary * Key Questions to Ask a Prospective Designer
Step 2: Exploit Permitted Development Rights
What Are Permitted Development Rights? * Why Were Permitted Development Rights Introduced? * What Is the GPDO? * Seizing the Opportunities Presented by PD * What Are the Main PD Rights for Householders? * Danger: The Pitfalls of Householder PD Rights * Situations in Which PD Rights Do Not Apply or Have Been Removed * Other Unforced Errors * Don't Take Planning Advice from Your Builder * Don't Base Your Decisions on What Your Neighbour Has Built * Don't Take a Council Planner's Word for It * Certificates of Lawfulness – Certainty That Your Development Is Lawful * Beware of Combining PD Rights with Full Planning Consents * What to Do if Your Proposal Is Not PD * Step 2 Summary
Step 3: Understand How Planning Decisions Are Really Made
Planning Policies and 'Other Material Considerations' * How Planning Applications Are Assessed in Practice * The Most Popular Householder Developments * Step 3 Summary
Step 4: Apply Tactically and Effectively
The Nuts and Bolts of Making an Application * The Extraordinary Frustrations of Validation * How to Manage Your Case Officer * Neighbour Objections Are Important, but Not Usually Decisive * The "Pre-App" Trap * The Burden of Expensive Reports * Influencing Internal Consultees * Are Planners Corrupt? * Lobbying Councillors * The Planning Committee * The Withdrawal Method * Planning Condition * Planning Obligations & CIL * Step 4 Summary
Step 5: Be Prepared to Resubmit or Appeal
Read the Officer's Report * Ask for a Meeting * Approach a Planning Consultant * Resubmit Your Application * Appeal the Decision * The Appeal Statement * Submitting and Managing Your Appeal * The Appeal Decision * Winning an Award of Costs * Appeal FAQs * Step 5 Summary
Step 6: Beware of Planning Enforcement
This Chapter Is for You * What Triggers an Investigation? * How Does an Investigation Work? * Planning Contravention Notices (PCNs) * The Officer's Discretion * Managing Your Case Officer * Retrospective Planning Applications * The Awesome Power of an Enforcement Notice * The 4-Year Rule and the 10-Year Rule * (Almost) Always Appeal an Enforcement Notice * Listed Buildings and Protected Trees * Deliberately Breaching Planning Control * The Enforcement Lottery * Avoiding the Unforced Errors That Lead to Unexpected Enforcement Action * Step 6 Summary
Planning Hacks: A Summary of My Top Tips
Step 1: Choose the Right Designer * Step 2: Exploit Permitted Development Rights * Step 3: Understand How Planning Decisions Are Really Made * Step 4: Apply Tactically and Effectively * Step 5: Be Prepared to Resubmit or Appeal * Step 6: Beware of Planning Enforcement