HMO Investors Beware - the Planners Are Coming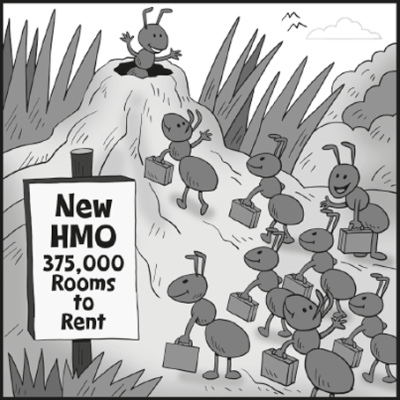 The house in multiple occupation (HMO) sector has boomed over the past couple of decades as landlords chase higher yields than can be obtained from boring, vanilla buy-to-lets. It's a simple formula – bigger houses, with more lettable rooms, let to individual tenants, generate higher rents.
The boom has triggered a regulatory backlash. In particular, more and more HMOs now need full planning permission. Decades ago, few did. In 2010, changes to planning law gave local councils the power to require that all new HMOs in their areas needed planning consent. Planning enforcement teams have targeted landlords who need permission and don't have it, and some landlords have been forced to convert their HMO cash cows back into family houses.
An increasing number of councils are determined that no new HMOs shall be created in their districts and are refusing all applications that they receive. Th e government's planning inspectorate handles appeals when planning permission has been refused. In 2010, they dealt with 83 appeals relating to HMOs. In 2020, they decided 528.
HMO landlords are familiar with the licensing regime – almost all HMOs now need a license – and they accept that the regime ensures minimum standards and keeps tenants safe. However, few landlords fully understand that many HMOs now need full planning permission, that some existing HMOs are unlawful and that the planning system poses a real threat to their businesses.
Planning pressure on HMOs is set to intensify. Every year, more councils introduce stricter planning controls, even over small, shared properties with as few as three sharers. This book sets out the planning context for HMOs and reveals the secrets for surviving in the HMO planning jungle.
What You Need to Know
I am a chartered town planner, working in an ever more com-plicated and intrusive planning system. I founded and run Just Planning (just-planning.co.uk), a specialist planning consul-tancy providing services to homeowners and smaller develop-ers. We work with HMO landlords all over England, mostly getting involved when a planning application is refused or when they are facing enforcement action. I have represented hun-dreds of landlords who have found themselves in difficulties with local planners.
In this book, I explain how you ensure your HMO has the planning consents it needs, how to apply for permission if needed and how to deal with a planning refusal or, worse, an Enforcement Notice. I explain in detail how planners assess an application and how inspectors determine an appeal. I explain how to create a new HMO, or buy an existing one, without finding yourself in hot (planning) water.
Chapter 1 defines HMOs in planning terms, outlines their rapid growth in recent decades and explains why this has been accompanied by more, and more intrusive, regulation.
Chapter 2 explains when planning permission is required for a HMO and why the number of HMOs requiring permission is growing so quickly.
Chapter 3 explores how planning applications are decided and outlines the key planning policies adopted and applied by local planning authorities.
Chapter 4 tells you how to apply for planning permission: what documents are needed; the importance of a good support-ing statement; the validation and decision-making process; and what you can do to improve your chances of success.
Chapter 5 sets out your options when planning permission is refused – should you walk away, resubmit or appeal? It looks at the most common reasons for HMO planning refusals and how to appeal, if you choose to do so.
Chapter 6 reviews all of the HMO planning appeals that were decided by the planning inspectorate in the first three months of 2021, drawing lessons for HMO landlords on making better planning submissions.
Chapter 7 considers whether HMOs may be permitted development and how to apply for a Certificate of Lawfulness to confirm that they do not require express planning consent. It explains how you may not need consent if your HMO has been running for a period of more than 10 years (the ten-year rule).
Chapter 8 looks at planning enforcement – the power of local planning authorities to take action against unautho-rised development. Councils have been increasingly willing to take enforcement action and the consequences for a landlord can be grave.
Chapter 9 shows how you might extend a house using householder permitted development rights in order to create a profitable HMO.
Lastly, my Cheat Sheet summarises the main messages in this book, for you to use as a quick reference or refresher (a more colourful, illustrated version of the Cheat Sheet is available for download from martingaine.com/hmos).
The information provided in this book relates primarily to England, though much of it applies equally to Wales. Scotland and Northern Ireland have their own planning systems, albeit based on the same general principles. I provide general advice derived from my own experience over the years and it is not intended to be exhaustive. Planning is a complex world so always take professional advice that is bespoke to your situation before relying on any of the information in the following pages.
You may notice that I refer interchangeably to "planners" and "case officers" – in both cases, I mean employees of the council who process and assess planning applications. For ease of comprehension (and through force of habit), I refer to the bodies that decide planning applications as "councils", though strictly speaking I mean "local planning authorities". Terms that you might not be familiar with (planners love jargon!) are highlighted in bold and defined in the glossary at the back of the book.
Don't forget to check out the HMO page on my website (martingaine.com/hmos) for bonus material, links to other resources and updates on the information in this book and on the world of Planning for HMOs in general. To be kept up to date with planning changes, sign up to my newsletter or join me on social media – I can be found on Facebook or Instagram as @martintheplanner.